Herbert
Name
Herbert
Titles
Dungeon Master
Parents
Two
Relatives
Mother and Father
Marital Status
Assumed Single
First Mention
Fiery Pit
Herbert is the Dungeon Master who is worshipped by Forgath. It is revealed that he lives in his parent's basement, is a part-time Starbucks employee [1], plays World of Warcraft, is unsuccessful with dating women [2] and owns an X-Box 360 [3].
Not-Walter
Edit
When Herbert answers a question, he uses Not-Walter, a pit fiend. Not-Walter appears out of a circular gate in the ground. Written around the gate is usually a comment from Herbert. Not-Walter answers the questions of the HAP then leaves.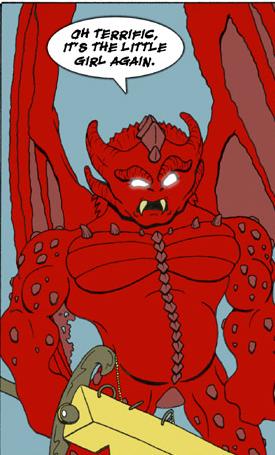 Not-Walter is the main character in "Not-Walter Screams Like a Little Girl" short story written by Tarol Hunt. The story is about Not-Walter who is summoned by Greena the Demon Slayer.
Ad blocker interference detected!
Wikia is a free-to-use site that makes money from advertising. We have a modified experience for viewers using ad blockers

Wikia is not accessible if you've made further modifications. Remove the custom ad blocker rule(s) and the page will load as expected.